From
http://www.zodiackillersite.com
member
Doranchak:
Interesting new article about Kaczynski:
http://news.yahoo.com/letters-from-a-se ... 43736.html
There are also hundreds of pages of media requests and letters from individuals who have written him about topics as random as gardening, relationship advice, tips for how to win the lottery and

whether he might also be the infamous Zodiac Killer. ("Crackpot," Kaczynski scrawled on one Zodiac-related note.)
There are some new scans of his letters as well:
https://www.scribd.com/doc/296487035/Unabomber-Letters
Direct link to some scans in PDF format:
Part 1:
https://www.scribd.com/document_downloa ... urce=embed
Part 2:
https://www.scribd.com/document_downloa ... urce=embed
AK Wilks:
Some interesting stuff from Ted. He gives his reasons for slightly favoring Obama in the 2008 election, only to be disappointed after he was elected. Ted also has letters to a woman he says he fell in love with. Lots of interesting letters, lots of handwriting samples very Z like, words and phrases that are Z like. Ted criticizes Bin Laden for having unrealistic goals. This from the man who killed computer store managers to stop the technological revolution!
Ted states in response to a letter - "I have no idea what youtube is."
Found by
http://www.zodiackillersite.com
member up2something, from the newly released letters:
Zodiac Killer: .. I wish you a happy Christmas.
Ted Kaczynski: I wish you a happy Easter.

Best regards, Ted
(Below there is large)
Z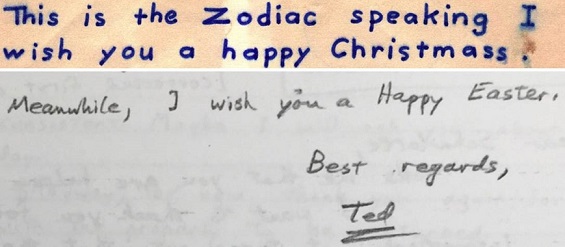 From
Doranchak:
Yahoo News has uploaded 5 PDFs to Scribd. I've downloaded them and shared them here:
https://drive.google.com/folderview?id= ... sp=sharing
Google Drive has a pretty decent PDF browser - simply click on the file and you'll see a preview of the pages. Then click the down-arrow icon if you want to get a copy of the original PDF.